Welcome...
If you are already familiar with Gillette Adjustable Razors and just want to see about a specific model, please go to the different razor links by selecting "ALL THE RAZORS" to learn more about your favorite razor. However, if you need more background on these great double edge safety razors, please read on. (xx)
Synopsis
The Gillette Adjustables were produced from 1955 until 1988. Gillette was trying to find one razor that could meet the needs of any individual regardless of their shaving needs. A one size fits all product. Their first attempt was the serial numbered Toggle (1955). The adjustable razor products went through many iterations and refinement over the years. The last version produced was the I-2 diamond knurled Super Adjustable "Black Beauty" with black plastic bottom plate.
The sequence of models went something like this... First, there were the Serial Toggles which had a 4 digit serial number stamped into the bottom plate and were sold for $7.50. Initially Gillette was trying many different models simultaneously. Toggles, Bottom Dials and Fatboys models were all fighting it out to be the best. Bottom Dials (1956 - 1960) were the precursors to the Fatboys (1958 - 1961) but both were produced in conjunction with each other. The Serial Toggle (1955) was replaced by the Standard Toggle (1958 - 1960) and the Chrome Toggle (1960). The Standard Toggle was a high end gift product which sold for $10 and the Fatboys, which beat out the Bottom Dials, were retailing for $1.95
After the Toggles, Bottom Dials and Fatboys had run their course, they were replaced by the Slims (1961 - 1967).  Gillette felt they had the perfect razor with only two models needing to be produced; an Aristocrat Slim for the higher end gift market ($5.00) and the Standard Slim for the everyday shavers ($1.50).
However, the Slim was too short for some customers and expensive to produce. Gillette went back to the drawing board and produced the Super Adjustables (1968 - 1988). There were two models of Super Adjustable, 84 millimeter and 109 millimeter versions. Two lengths were needed to cover the market. Also, a gold Super Adjustable  (1969 - 1970)  was made to be sold as gifts for a short time. By 1977, the short super adjustable and the gold gift version had been discontinued. Too many models of double edge razors were a distraction to the cartridge razor markets which were strong and profitable. From 1977 to 1988 the sole reigning model of adjustable double edge safety razor was a 109 mm black handled version with nickel plated brass doors and black plastic bottom plate. After 1988, Gillette deemed it uneconomic to continue producing products for the double edge razor and razor blade markets. End of an era!
Glenn Conti - Razor Collector / Archivist / Webmaster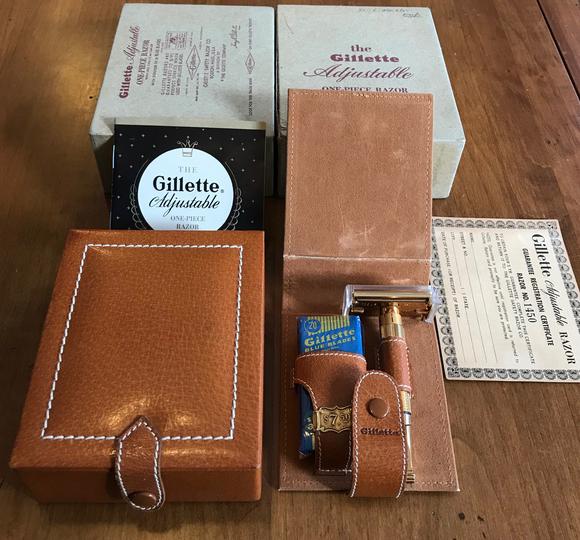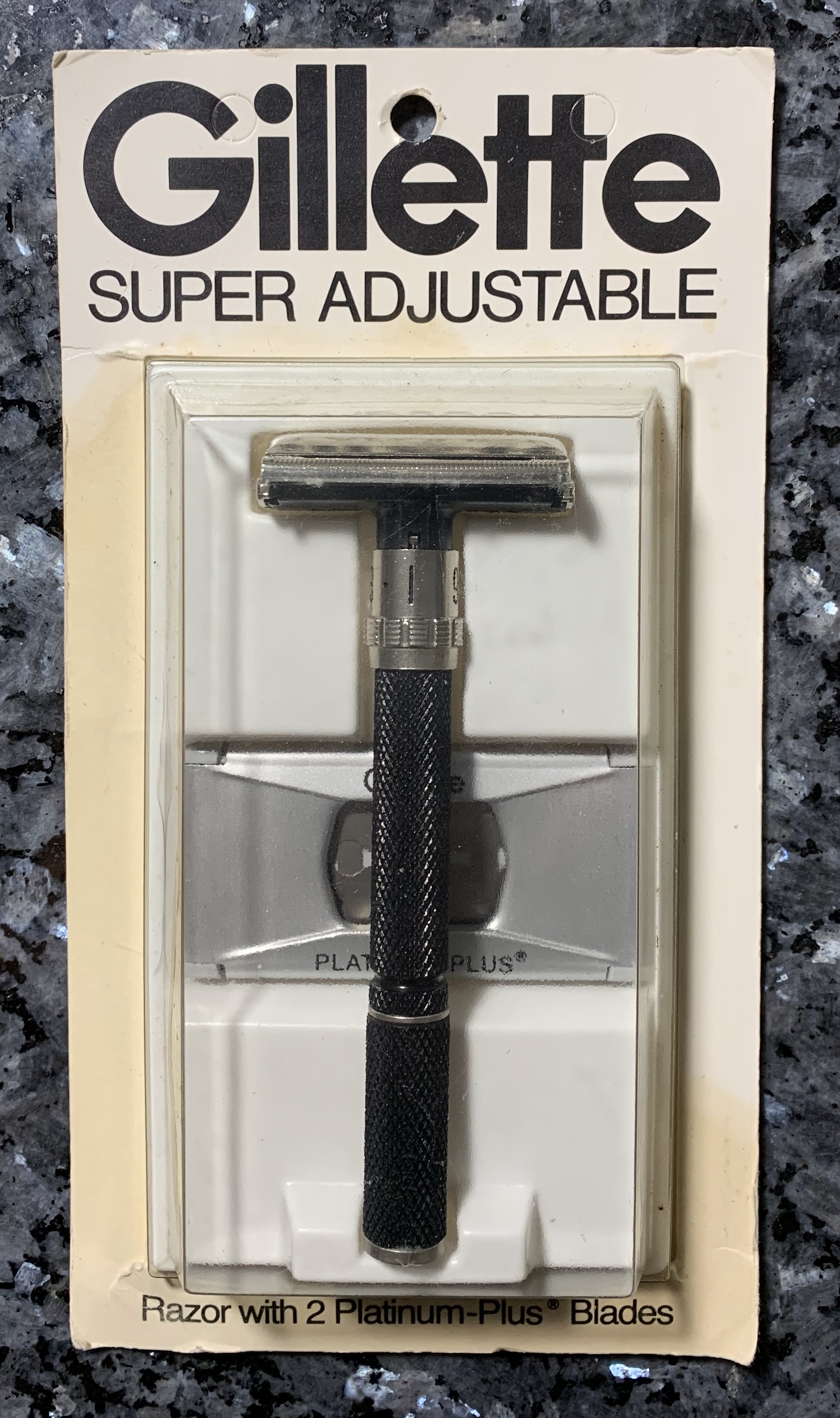 Five Adjustable Razor Families...