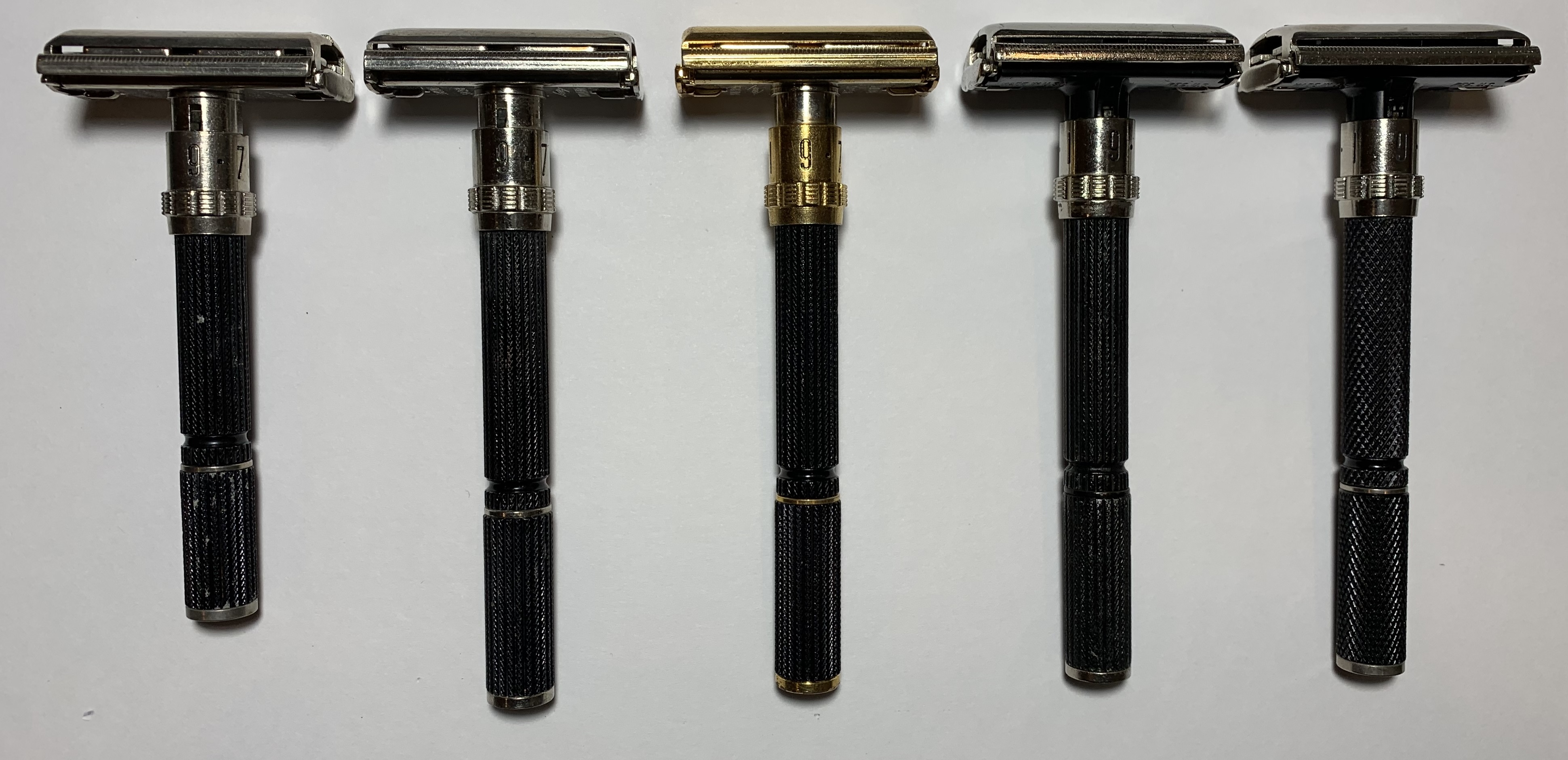 Here is the Super Adjustable Family of razors! These are also called the "Black Beauty". Gillette was hitting their stride when they produced the Super Adjustables. Not only were they great shavers but Gillette had figured how to produce them economically. Every profit dollar was discovered without sacrificing shave quality. If you don't own a Fatboy or a Slim, really really really you should be enjoying a Super Adjustable.
The hallmark of the Super Adjustable family is the black handle which is a resin coated aluminum. Super easy to identify. The first two Super Adjustables were produced simultaneously. They were the "Super-84" and the "Super-109". Subsequently the "Super" label on the packaging was changed and modernized to "Super Adjustable". The Super Adjustable 84 had an 84 millimeter long handle very similar to the Slim. Also a 109 millimeter handle was introduced in the Super Adjustable 109. A longer handle provided a better balance and better reach for the ladies. The 84 was dropped in favor of the 109 mm length.
An upscale gold headed version of the Super Adjustable was also produced for the Father's Day gift market. These gold versions are not as easy to find these days; and are very rare to find in their original packaging.
The Super Adjustable 109 PV (Plastic plate with Vertical knurling) was introduced in 1977 to save on manufacturing costs. The bottom plate was made out of black plastic instead of nickel plated brass. And the Super Adjustable 109 PD (Plastic plate with Diamond knurling) was introduced in 1980. This model was in production until 1988 when Gillette stop manufacturing adjustable double edge razors. By then expensive multi-blade cartridges were the rage.