From the 1950s - Gillette K-34 Shaving Cream Products
In the mid to late 1950s, Gillette was offering 3 versions of their trade marked K-34 (antiseptic hexachloraphene) shave cream: "Brushless", "Regular" and "Foamy Instant".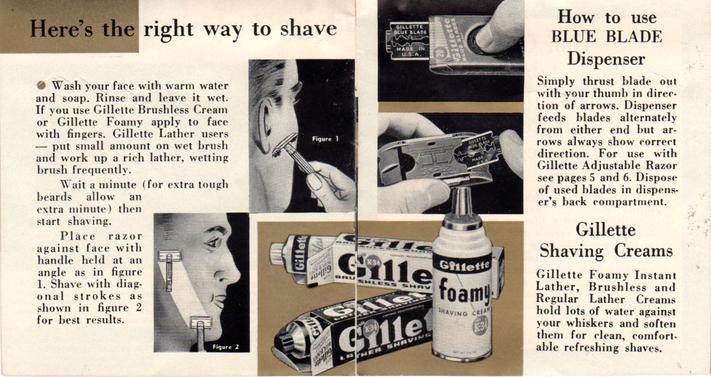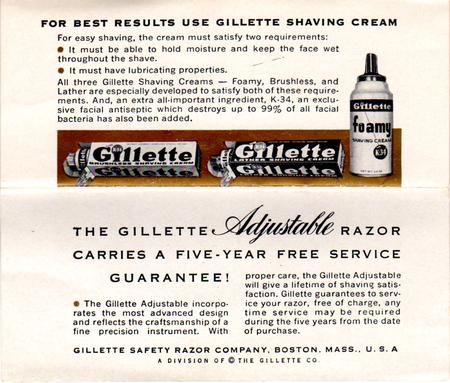 By 1959, in their Fatboy instructions, Gillette was downplaying the K-34 Tube-type product in favor of the "FOAMY instant" canned version. And, it seams the "Regular" version was gone altogether. In the modern age who had time to use a brush to apply lather when they were shaving?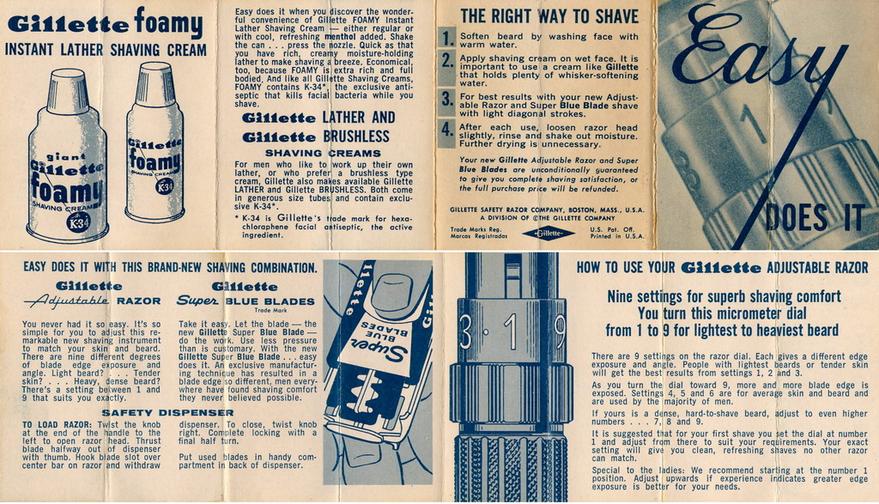 A Gillette advertisement from June 29, 1948 which ran in The Berkshire Eagle (Page 9) touting the great antiseptic properties of the new ingredient K-34. Destroys 85% to 95% of the bacteria on your face and beneath the first couple layers of skin for a surgically clean face. Residual effect continues for up to a week. Scary much?! Kind of like Napalm on your face...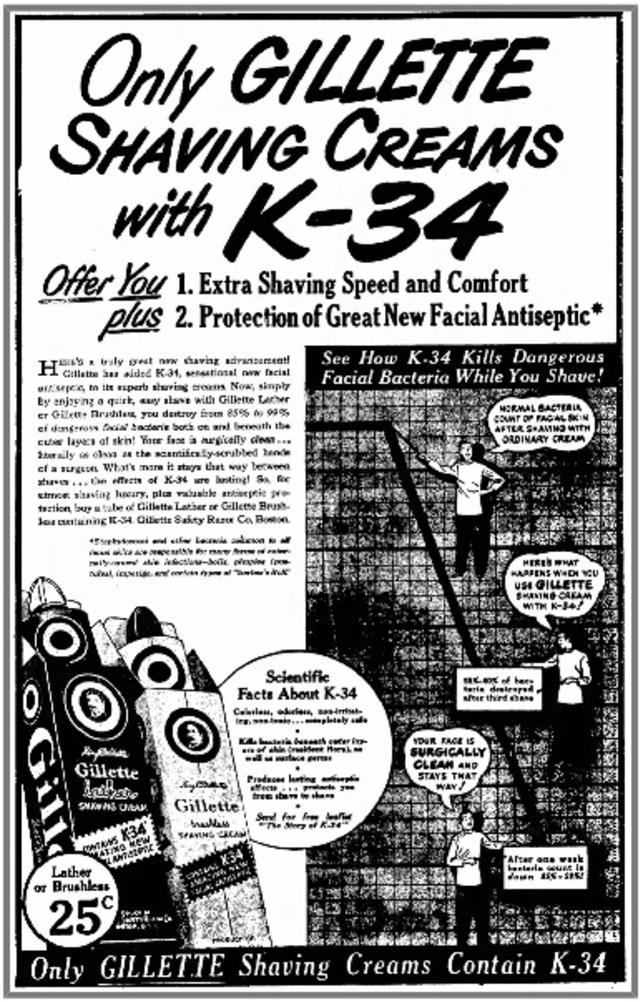 Gillette K-34 "Regular" Tube Shaving Cream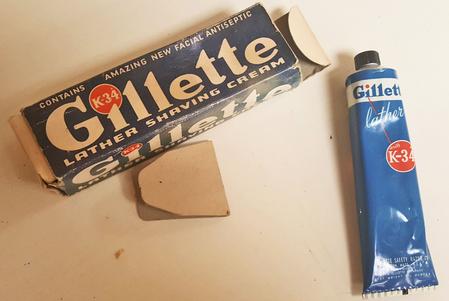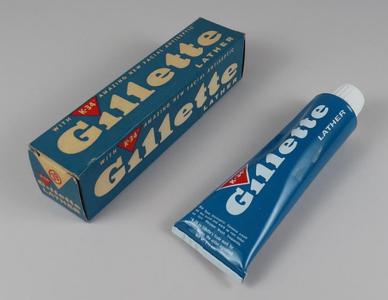 Gillette K-34 "Brushless" Tube Shaving Cream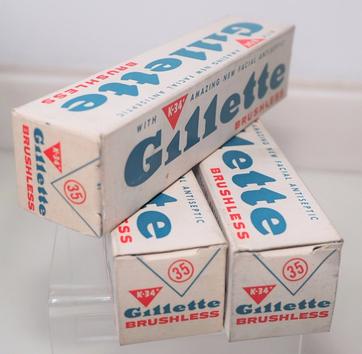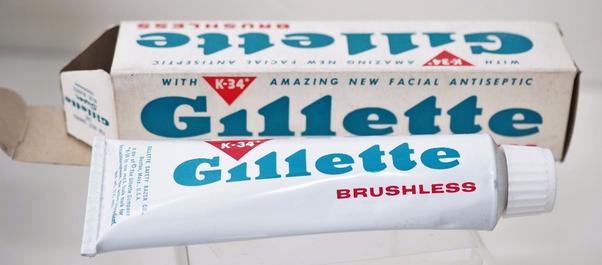 Gillette K-34 Instant FOAMY shaving cream (79 cents retail) in a promotion with an early 60s Standard Slim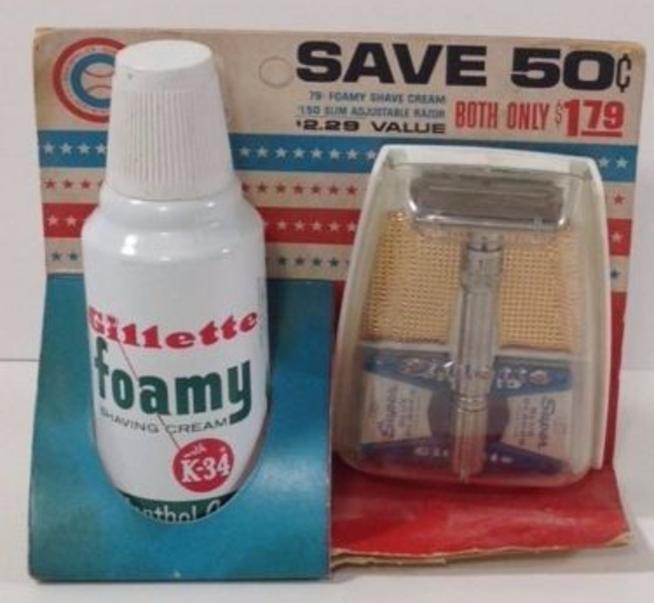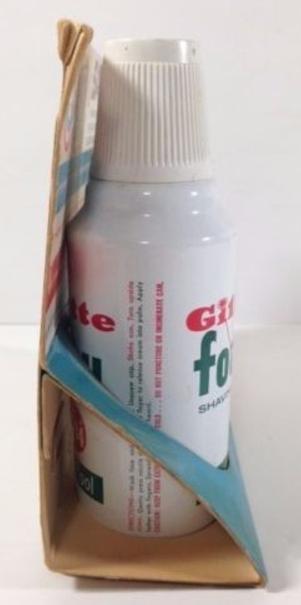 In Canada, Gillette applied for on 7/29/1969 (0324627) and received a Trademark for the word K-34, hexachlorophene incorporated as an ingredient in shaving cream, on 7/31/1970 (TMA170302) but let it lapse on 9/26/1985.
In 1972, hexachlorophene was withdrawn from many products, including Foamy (Gillette),  pHisoDerm (Winthrop) and Baby Magic Bath (Mennen) due to a public health scare. Restrictions were enacted after 15 deaths in the United States were reported following brain damage attributed to the ingredient.
As per the FDA, Though considered safe for many years, recent information has become available associating hexachlorophene with toxic effects, including deaths. Studies have shown that toxic amounts of hexachlorophene can be absorbed through the skin of humans, especially the skin of premature babies or damaged skin. Human toxicity reports include data on symptomatology, blood and tissue levels of hexachlorophene, and descriptions of neuropathologic lesions. Recent infant deaths due to use of baby powder accidentally contaminated with 6 percent hexachlorophene have occurred. The accumulated evidence of toxicity is sufficient to require that continued marketing of hexachlorophene containing products be carefully defined in order to protect consumers.  [CITE: 21CFR250.250]
Therefore, use of this product (with K-34) today if obtained in new-old-stock condition is not recommended!!
Procter & Gamble/Gillette continues to market shaving cream products today under the FOAMY brand name without using the problematic ingredient hexachlorophene.